Minneapolis, MN (June 14, 2023) – National Grid Renewables received recognition for its excellence in workplace safety and health during the 2023 Minnesota Safety and Health Conference. In May, National Grid Renewables was among 210 employers to be honored through the awards program, coordinated by the Minnesota Safety Council.
"Congratulations to National Grid Renewables for their hard work, attention and dedication to safety," said Paul Aasen, president of the Minnesota Safety Council. "Keeping people safe and achieving award-winning performance is no accident. It takes everyone from the front line to executive leadership to help people work safe, drive safe and live safe."
Since 1934, the annual Governor's Safety Awards program has honored Minnesota employers with exceptional safety performance. Applicants are judged on several years of injury data as it compares with their industry's national statistics and on their progress in implementing a comprehensive safety program.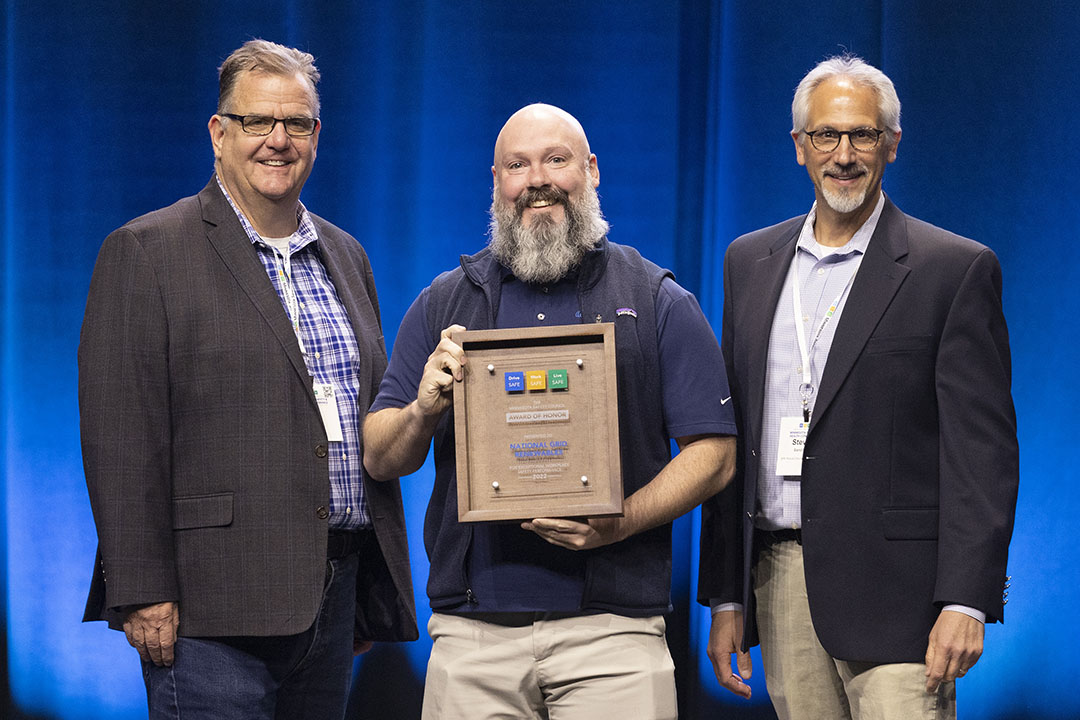 Zach Chamberlain (center) from National Grid Renewables accepts the award with representatives from the MN Safety Council.
Winners are recognized at three levels:
Meritorious Achievement (84 winners): Incidence rates that are better than the industry average for at least three years, and a score between 50 and 74 on a 100-point safety program evaluation scale.
Outstanding Achievement (81 winners): Continuing improvement and/or a continuing outstanding record with incident rates that are 51%-90% better than the industry average, and a score between 75 and 90 on the safety program evaluation scale.
Award of Honor (45 winners): Incidence rates at least 91% better than the industry average, and a score between 91 and 100 on the safety program evaluation scale.
National Grid Renewables received an Award of Honor for Excellence in Workplace Safety. "We're honored to receive this award," said Gemma Smith, Vice President of S.H.E. Risk and Compliance. "Here at National Grid Renewables, we truly believe that safety is one of our core values. While our safety team helps promote this value, it's our leadership and field teams that help make it a reality. This award recognizes all the work that our entire team has put into safety, from daily stretches and job briefs to long conversations walking through how we are performing the jobs, and recognizing team members for making tough calls and stopping the job when something doesn't seem right."
The Minnesota Safety Council, founded in 1928, is a non-governmental, not-for-profit organization dedicated to improving the quality of life in Minnesota by preventing unintentional injuries on the road, at work, at home, and in the community.
About National Grid Renewables
National Grid Renewables develops and operates large-scale renewable energy assets across the United States, including solar, wind, and energy storage. As a farmer-friendly and community-focused business, National Grid Renewables repowers America's electricity grid by reigniting local economies and reinvesting in a sustainable, clean energy future. National Grid Renewables supports National Grid's vision of being at the heart of a clean, fair, and affordable energy future for all. To learn more about National Grid Renewables, visit www.nationalgridrenewables.com or follow the company on Twitter or LinkedIn.