Ohio PJM project located in Ross and Pickaway Counties
Minneapolis, MN (October 3, 2023) – National Grid Renewables announced today the start of operations of Amazon Solar Farm Ohio – Yellowbud (Yellowbud), a 274 megawatt (MW) solar project located in Ross and Pickaway Counties, Ohio. Located in the PJM market, Yellowbud has an executed Power Purchase Agreement (PPA) with Amazon for the solar farm.
"Amazon is deeply committed to the state of Ohio, where we're investing in and scaling new renewable energy projects like Yellowbud that will help power our operations with 100% renewable energy, while also bringing new jobs, economic benefits, and new sources of clean energy to local communities," said Amazon Head of Energy, Water and Sustainability, Nat Sahlstrom. "We're eager to continue contributing to Ohio's economic and environmental goals as part of Amazon's commitment to become a more sustainable business."
In recognition of this milestone, National Grid Renewables and Amazon hosted community members and local media for a tour of Yellowbud so they could see first-hand how the project is making a positive impact on the local community and throughout the state of Ohio. During operations, Yellowbud is estimated to generate $90 million in tax revenue, jobs, landowner income and charitable initiatives.
Additionally, the project continually seeks ways to support local organizations and businesses, with a focus on hiring locally whenever possible. Examples of this commitment can be seen in the project's work with local landscape company, Optimal Outdoor Solutions, who recently secured a contract for mowing on the project site, and the employment of a longtime area resident as the onsite plant manager. Yellowbud's support has extended to the local chapter of Big Brothers Big Sisters via charitable donations, as well as the Yellowbud PILOT program with Ohio University Chillicothe, both of which benefit children and students across the state.
"Many in our areas have seen the recent local growth of the solar industry through projects like Yellowbud, and they are eager to learn more about energy innovations," said Roberta Milliken, Dean of Campus and Community Relations at Ohio University Chillicothe. "Our partnership with National Grid Renewables enables us to find ways to bring the conversation about renewable energies to our students and to also equip teachers with relevant and beneficial information about it."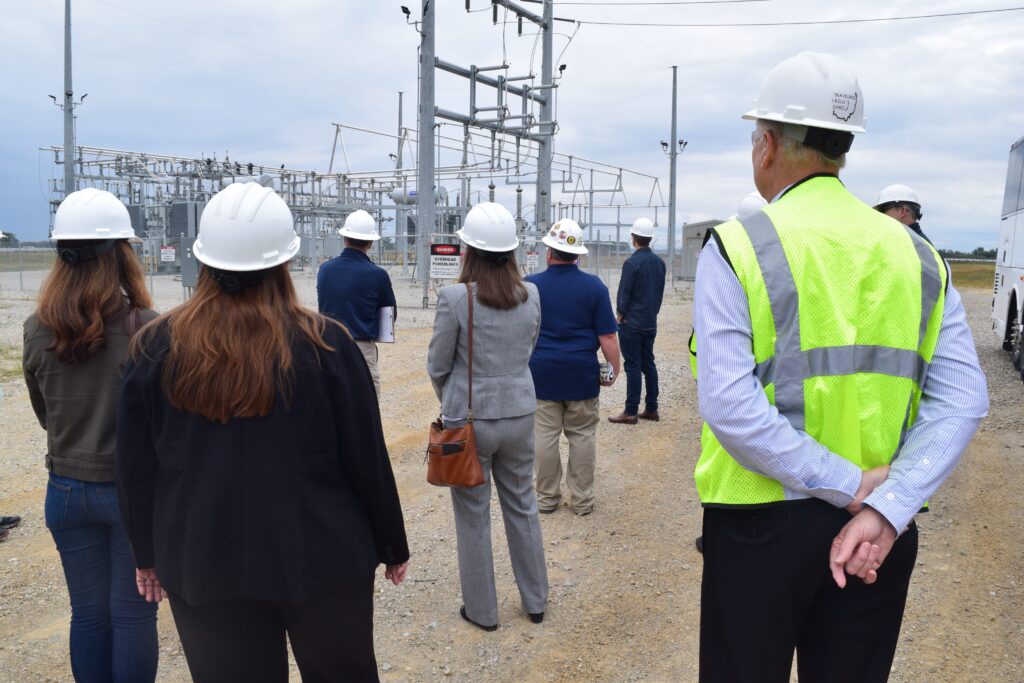 "Yellowbud represents a long-standing commitment to bring renewable energy and economic benefit to Ohio residents," said Blake Nixon, President of National Grid Renewables. "It's both rewarding and exciting to see the project reach this pivotal point. We are proud to work with customers like Amazon, who share our community-focused values and not only help to bring clean, solar resources onto the electric grid, but also support our efforts to maximize a project's local economic and social benefits."
About National Grid Renewables
National Grid Renewables develops, owns and operates large-scale renewable energy assets across the United States, including solar, wind, and energy storage. As a farmer-founded and community-focused business, National Grid Renewables repowers America's electricity grid by reigniting local economies and reinvesting in a sustainable, clean energy future. National Grid Renewables supports National Grid's vision of being at the heart of a clean, fair, and affordable energy future for all. To learn more about National Grid Renewables, visit www.nationalgridrenewables.com or follow the company on LinkedIn.